Therapy for lumbar pain in Los Angeles

Lumbar Non-Surgical Spinal Decompression
There is a more effective alternative to the anxiety, sciatica nerve pain and the risk of spinal surgery. Medical science has developed a non-surgical spinal decompression procedure that has been proven effective in relieving the lower back pain and sciatica nerve pain. This is a form of radiculopathy (radiating nerve pain) of the sciatic nerve. This pain is caused by herniated or degenerative discs. In fact, it doesn't just reduce the pain, it is restorative to the spine and spinal discs! Dr. Bruce Shannahoff and his team take pride in providing a wide range of alternative treatments using the latest technology. With our non-surgical services your lumbar pain will be relieved quickly and efficiently.
This pain relief process is effective in alleviating low back pain and sciatica nerve pain. It produces negative intra-discal pressure, improves disc hydration, reduces herniation, and strengthens outer ligaments. All of these treatments help move herniated discs back into place in order to improve the health of the disc and surrounding tissues. Call our office at 818-789-3244 to find out if you may be a candidate for this revolutionary low back pain solution.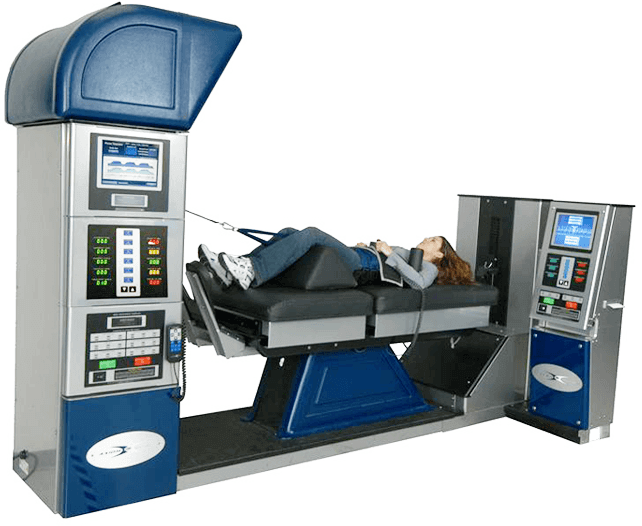 ---
DRX9000™ Non-Surgical Spinal Decompression System
The key to this revolutionary therapy is the DRX9000™ Non-Surgical Spinal Decompression System, a machine developed to treat:
Disc herniation
Degenerative disc disease
Facet syndrome
Sciatica nerve pain
Spinal stenosis
---
Lumbar Spinal Decompression Therapy
Dr. Bruce Shannahoff has been trusted time and time again by numerous patients for all chiropractic solutions. After providing his pain relief treatments for more than 32 years, he still takes pride in helping people.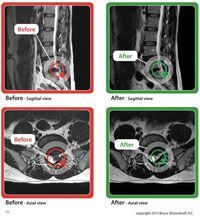 This 47-year-old male patient came to our offices with severe low back pain and sciatica nerve pain caused by an 11mm herniated disc extrusion at L4/5 which was demonstrated to have been reduced, on his post-treatment MRI, to 1mm, and with complete relief of his low back pain and sciatica nerve pain.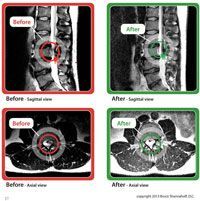 This 33-year-old male patient presented in our offices with severe low back pain (8 on a scale of 10) and radiating pain, numbness and tingling down the left leg. His MRI indicated a herniated and extruded disc at L2/3 measuring 8mm x 22mm x 26mm (AP x Trans x CC). His post treatment MRI indicated resolution down to a 3mm protrusion. His pain, numbness, and tingling were all resolved.