Upper Cervical Chiropractic

Valley Spinal Decompression Center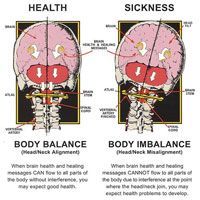 The friendliest and best chiropractor in Los Angeles
We offer full spine care from one of the best chiropractors in the Encino area. We specialize in upper cervical chiropractic which deals exclusively within the area where the skull rests on the neck. The reason this area is so important is that the brain stem/spinal cord contains virtually all the nerves that will go everywhere in the body to regulate and control our physiology. Many types of poor health conditions can be traced back to a misalignment of this crucial area of our anatomy. Watch the Good Morning America video segment to see how the medical community is finally starting to understand this important health concept.
---
Fully certified chiropractor
One of the most immediate effects of an upper cervical correction is a balancing of the postural muscles and resulting realignment of the pelvis. Upper cervical chiropractors usually use the relative leg length discrepancy (that results from an upper cervical misalignment) as an indicator as to when the adjustment is necessary, and to check that the adjustment was correctly administered. The correction of the upper cervical subluxation (misalignment) can dramatically improve spinal pain, from the neck to the lower back, and sciatica as a result.
Videos About Upper Cervical Chiropractic