Professional Los Angeles neck pain relief

Cervical Non-Surgical Spinal Decompression
Chiropractor Dr. Bruce Shannahoff is your renowned specialist for cervical non-surgical spinal decompression in the San Fernando Valley and throughout Los Angeles.
Neck pain and radiculopathy, radiating nerve pain that may go down the arms or into the shoulder areas, often the result of neural compression due to herniated and degenerative discs can also be treated and reduced non-surgically. The DRX9000C™ uses the same state-of-the-art technology as the DRX9000™ to gradually reduce compression through the creation of negative intradiscal pressure, which is restorative to the spinal discs and helps to achieve long-term pain relief.
---
Your Expert For Cervical Non-Surgical Spinal Decompression in Encino
The DRX9000C continuously monitors tension forces using the Nested Closed-Loop Feedback System and the cervical spine angle is adjusted to the patient's proper angle of pull, thereby affecting a specific cervical disc. These factors help to provide a tremendous advancement in the treatment of cervical disc problems over all other preexisting forms of treatment.
Just call our Encino, CA office today at 818-789-3244 to find out if you may be a candidate for this revolutionary neck pain solution. We can set up an appointment with Dr. Bruce Shannahoff with over 32 years of chiropractic experience in helping people with problems just like yours.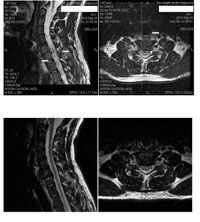 Click on the image below to see the remarkable pre and post MRI results of the 30-year-old male patient with a severely herniated disc in his neck, severe radiculopathy and loss of muscle strength that was treated successfully in our Encino, CA office: