Professional chiropractic care

in Encino, CA
Are you looking for a chiropractic office in the region of Encino, Van Nuys, Reseda, and Sherman Oaks? We are your address in San Fernando Valley when it comes to non-surgical spinal decompression.
---
What is Chiropractic?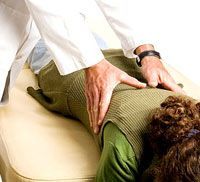 Chiropractic represents the area of health sciences that deals with the relationship of the spinal column and its impact on the function of the nervous system. It is generally agreed by anatomists and physiologists that the nervous system is the master control system of our bodies; even the hormonal system is under its control.
It is long established that mechanical problems of the spinal column may negatively impact the function of our nervous system in maintaining our health. Chiropractors are the leaders in understanding how to deal with these spinal mechanical problems, with five years of graduate studies required to receive a Doctor of Chiropractic degree.
Chiropractor Dr. Bruce Shannahoff in Encino, CA with over 30 years of experience
Most commonly, chiropractors perform a procedure called an "adjustment" that helps to restore the normal mechanical function of the spine in order to improve health. Dr. Shannahoff is your chiropractor in Encino with over 30 years experience in helping individuals regain their health through chiropractic's non-invasive, non-pharmaceutical methods. He has studied and has been certified in many techniques to address spinal mechanical problems and has helped individuals of all ages with a wide variety of health issues.